About Invisalign
When it comes to straightening your smile, discretion matters. With Invisalign, you won't have to deal with metal brackets and wires drawing attention to your mouth — Invisalign provides clear aligners that blend in naturally with your teeth. You'll even be able to remove them to eat your favorite foods and keep your teeth healthy and clean!
Invisible In Your Smile — Invisalign uses comfortable, clear aligners to straighten your teeth, allowing the solution to blend in naturally with your smile. Most people won't even know you are wearing them!
Removable Aligners — Unlike traditional braces, Invisalign snuggly slides over your teeth, but can be easily removed. When you take the aligners out, you'll be able to eat any kind of food without worrying about breaking the aligners.
Results You Can See — The Invisalign solution is proven to be fast and effective, with most patients seeing changes in just a few months! In many cases, overall treatment time can be quicker than with traditional braces too!
Invisalign is an excellent option for patients of all ages, specifically older teenagers and adults as their teeth and jawbones are done developing and allow for retainable results. Patients of this age range also are more attracted to the appealing, transparent design and prefer it over traditional brackets and wires. Invisalign can be used to treat even some of the most complex cases, but is most commonly recommended to patients who experience the following orthodontic concerns:
Overbite
Underbite
Overcrowding
Smile gaps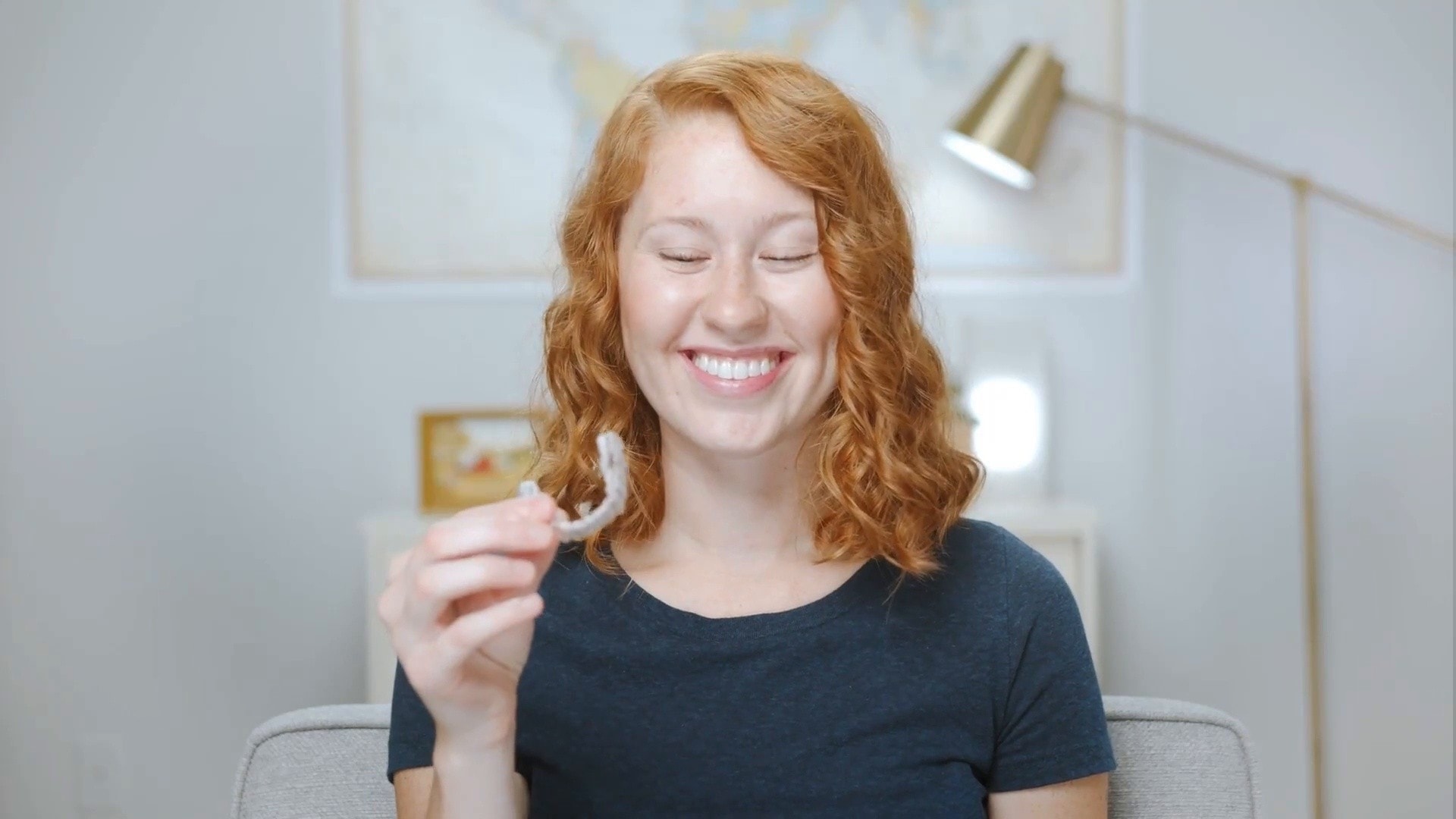 Our Process
Dr. Nelson has decades of experience creating straight, beautiful smiles in Colorado. He has been recognized by Invisalign as one of their prestigious Top 100 Providers in the world and is the #1 Invisalign provider in the region. In addition to Dr. Nelson's exceptional work, our offices are staffed with friendly, knowledgeable Invisalign technicians who are available to conduct consultations and regular check-ups as well as answer any questions or concerns you may have. We always want your experiences with us to be pleasant and productive!
Our team creates custom orthodontic treatment plans that are personalized to provide each patient with quick and effective care, and we are always looking for ways to make our services more convenient, productive, and all-around better for our valued patients. If you are interested in teeth straightening options or have a question about our services, please contact us!
A Free Consultation
Ready to finally achieve the straight smile you've been dreaming of? The first step towards straighter teeth begins with scheduling a free consultation with our office. Our team will provide you with more information and answer any questions or concerns you may have. Then, digital scans of your teeth will be taken, and the process of designing and creating your custom aligners will begin.
Pick Up Your Aligners
Once your aligners arrive, we will have you come in and place your attachments. Attachments are small, clear dots placed on certain teeth to aid in precise tooth movement. Attachments are also used if rubber bands are needed to move the teeth. While it's normal for aligners to feel a little tight at first, they're the magic that makes Invisalign work, and we will want to make sure that your custom trays fit properly and will do exactly what they're designed to do.
Begin Treatment
Once you take your aligners home, it's imperative you wear them full-time unless you are eating, brushing, or flossing your teeth. Invisalign aligners need to be removed any time you are eating or drinking something besides water, and they should be cleaned at least once per day to keep them in great condition. We recommend storing aligners in their case whenever they are not being worn to avoid losing or damaging them.
Attend Occasional Appointments
In addition to wearing your aligners regularly, scheduling and attending a handful of short orthodontic visits with our team is another important part of the Invisalign process. Our Invisalign technicians will examine your teeth, address any questions or concerns you may have, and provide you with your next set of clear aligners.
Show Off Your New Smile (And Wear Your Retainers!)
Your last orthodontic visit is important for evaluating and making plans for finishing your treatment, and it will also involve taking digital scans of your newly straightened smile to have your custom retainer created. We know you will be looking forward to your very last orthodontic appointment — that's when you get to take your aligners out for the final time! Once you have your retainer, you will want to wear it at night while you sleep to ensure that your new smile stays perfectly in place.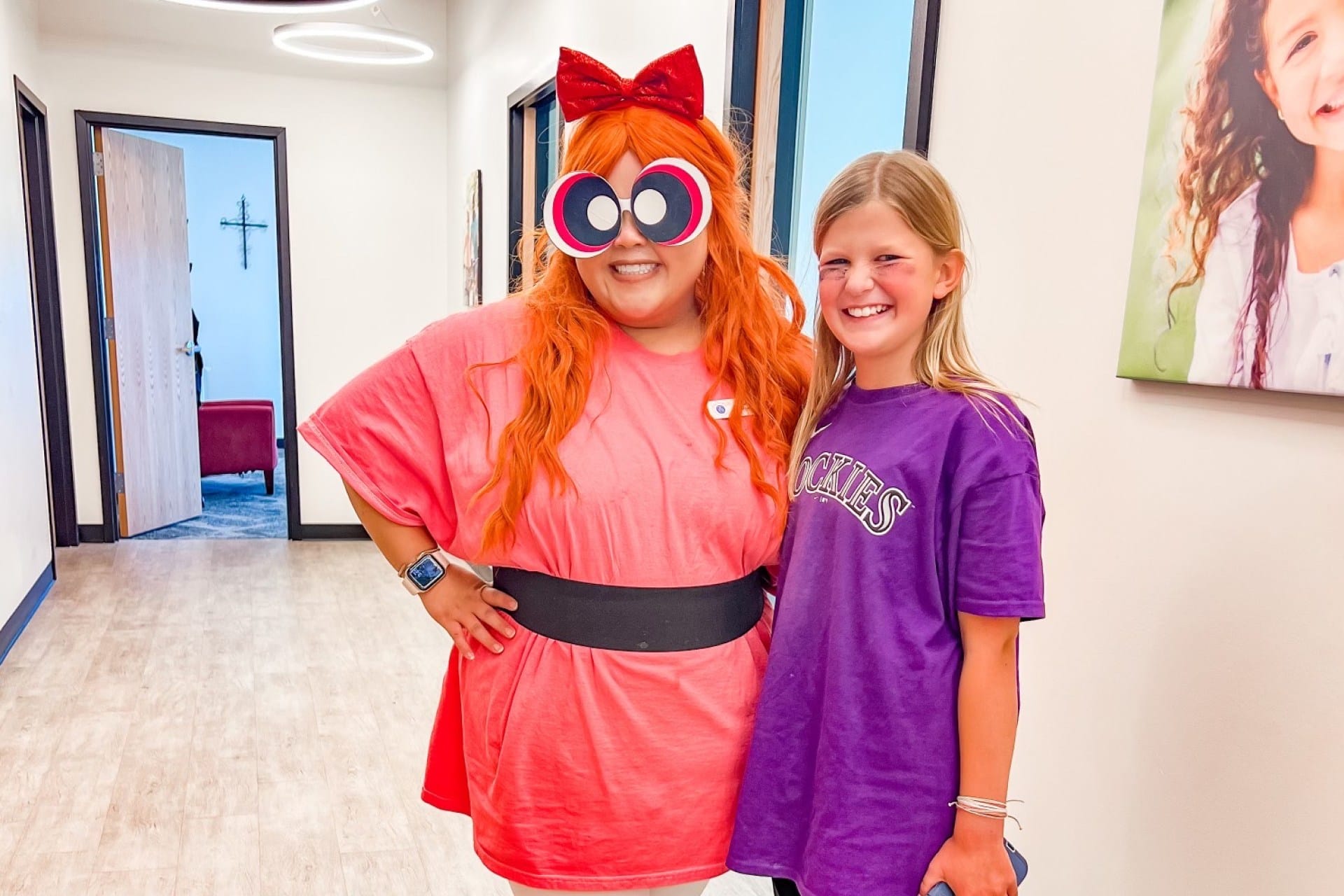 Invisalign For Kids
As parents, we want the best for our children in every aspect of their lives. This includes their oral health and ensuring they have a beautiful, confident smile. With advanced technology and treatment options available, orthodontic care has become more efficient and comfortable than ever before. One such treatment option that has gained popularity among parents is Invisalign First — a specialized version of Invisalign designed specifically for children ages 6-10.
The Benefits of Early Treatment with Invisalign First
Research has shown that early orthodontic intervention can prevent more serious dental issues in the future. It's no surprise then, that the American Association of Orthodontists recommends that children have their first orthodontic evaluation by the age of 7. By this time, your child's permanent teeth have started to come in, and any potential issues can be identified early on. By starting treatment early, we can guide the growth of your child's jaw and create enough space for permanent teeth to come in properly. This is where Invisalign First comes in — it can help address common issues such as overcrowding, spacing, crossbites, and narrow dental arches at an early age.
Why Parents Love Invisalign First
Invisalign First aligners are made from the same materials and with the same advanced technology as the original Invisalign aligners. They are clear, removable, and custom-made for your child's teeth. They are virtually invisible, making them the ideal choice for young children who may feel self-conscious about traditional metal braces. With Invisalign First, your child can continue to eat all their favorite foods, play sports, and maintain excellent oral hygiene without any restrictions. Plus, there's no need for frequent adjustments or uncomfortable wires and brackets – your child will only require a quick virtual check-up periodically to ensure their smile is progressing as it should.
Invisalign First is a fantastic option for young children who require orthodontic treatment. With its many benefits, it's no wonder that more and more parents are choosing this option for their child's dental care. With a proactive early treatment approach, we can achieve better outcomes and lasting smiles. If you think your child may be showing signs of needing treatment, request a free consultation today.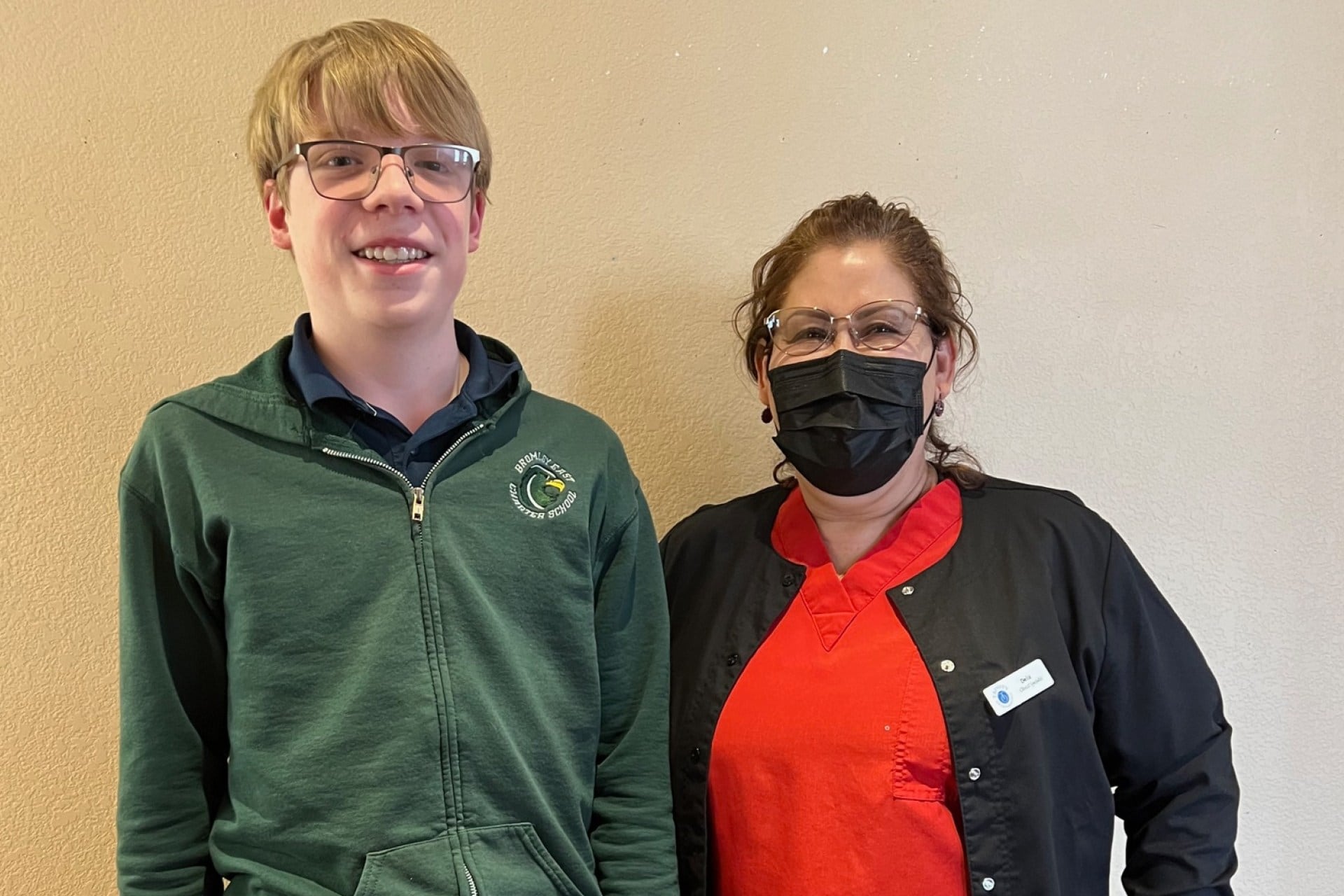 Invisalign For Teens
Invisalign has revolutionized the world of orthodontics with its clear aligners that provide a discreet and comfortable way to straighten teeth. But did you know that there is a specially designed version of Invisalign just for teenagers?
Invisalign Teen is a clear aligner system that works similarly to traditional braces but without the need for brackets and wires. It consists of a series of custom-made, transparent trays that gradually shift teeth into their desired position. This innovative orthodontic treatment is suitable for teenagers with mild to moderate teeth misalignment, overcrowding, or gaps.
What Makes Invisalign Teen Different?
While the basic concept of Invisalign remains the same for patients of all ages, there are a few key differences that make Invisalign Teen unique
Compliance Indicators — One of the biggest challenges with orthodontic treatment for teenagers is compliance. Invisalign Teen addresses this issue by including blue compliance indicators on each tray that fade with wear. This allows both parents and orthodontists to ensure that the aligners are being worn for the recommended minimum of 22 hours per day.
Eruption tabs — Invisalign Teen also takes into account the fact that teenagers' teeth are still growing and developing. The trays have specially designed eruption tabs that accommodate the growth of new teeth, eliminating the need for frequent adjustments.
Designed For Active Lifestyles — Being a teenager often means participating in sports and other physical activities. Invisalign Teen allows for this by being removable, eliminating the risk of mouth injuries from metal braces.
Customized For Teens — Invisalign Teen is designed with teenagers in mind, taking into consideration their unique orthodontic needs and lifestyle. The trays are trimmed to fit comfortably over your teenager's gum line, preventing any irritation or discomfort.
Invisalign Teen is a great option for many teenagers, and with Dr. Nelson's extensive experience, we can ensure your teen will love their smile both during and after treatment.
If you or your teenager are interested in exploring the clear alternative to traditional braces, schedule a consultation with our team. With its unique features and benefits, it may just be the perfect option for your teen's orthodontic journey!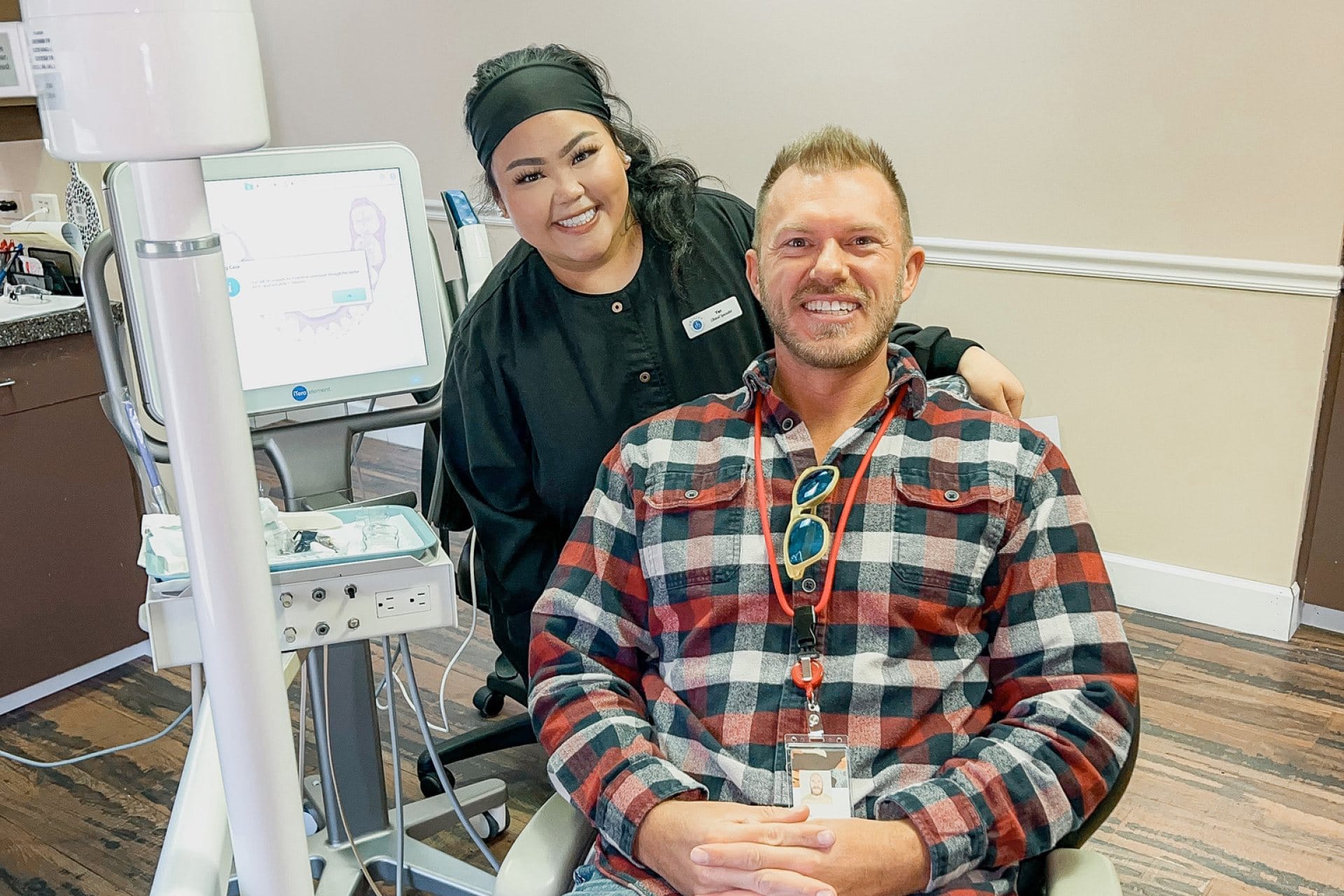 Invisalign For Adults
As adults, it's easy to feel like we've missed the boat when it comes to improving our smiles. After all, orthodontic treatment is often associated with teenagers and young adults. But the truth is, it's never too late to invest in your smile and achieve the straight teeth you've always wanted.
Invisalign offers a modern, discreet alternative to traditional metal braces. This system uses clear aligners that are custom-made to fit your teeth and gradually shift them into their proper position. No more awkward metal wires and brackets, just smooth and comfortable plastic trays that are virtually invisible.
Why Adults Love Invisalign
Whether you've always wanted straight teeth but never had the opportunity or have experienced shifting after previous orthodontic treatment, it's never too late to invest in your smile. Invisalign is suitable for adults of any age and can effectively address a wide range of dental issues, from minor touch-ups to complete smile transformations. We've found that many adults love Invisalign thanks to several reasons
Discreet Appearance — As mentioned, Invisalign aligners are nearly invisible, making them the perfect choice for adults who may feel self-conscious about their orthodontic treatment. You can confidently go about your daily activities without worrying about drawing unwanted attention to your teeth.
Comfort And Convenience — The smooth plastic material of Invisalign aligners means there are no sharp metal edges to irritate your mouth. They are also easily removable, so you can take them out when eating or brushing your teeth.
No Dietary Restrictions — With traditional braces, certain foods like popcorn and sticky candies have to be avoided in order to prevent damage to the wires and brackets. But with Invisalign, you can continue enjoying all of your favorite foods without the worry of damaging your treatment.
Easy Maintenance — Invisalign aligners are easy to clean and maintain, unlike traditional braces where food particles can easily get stuck in the wires and brackets. Simply remove the aligners and brush them with a toothbrush and water before putting them back in.
Shorter Treatment Time — Depending on your specific case, Invisalign treatment can often be completed in a shorter amount of time compared to traditional braces. This means you can achieve your dream smile sooner rather than later.